Photography Workshops to Bridge Divides
NGO PeaceBuilding × Corporate Team BuiLding
Saskia Keeley is a photojournalist, documentarian, peace activist, speaker, and the creator of "Accompagnateur Workshops."
Saskia Keeley Photography (SKP) runs Accompagnateur Workshops, photography workshops in which participants unpack decades of fear and bias through the simple yet profound acts of looking and listening for both NGOs and corporate clients.
The Accompagnateur Workshops guide and teach participants to see members of different cultures and communities with clarity and compassion. Assigning each participant to photograph "the other" breaks barriers and provides the chance to literally see one another from a new perspective.
SKP's primary purpose is to conduct more of these workshops in areas where they can help start global conversations oriented toward peace and coexistence (as in Saskia's work with NGOs like Roots and Taghyeer in the West Bank) and within divided communities (collaborating with NGOs like Pico Union Project in Los Angeles, the Women's Prison Association in New York City, and S.T.R.O.N.G Youth on Long Island).
Saskia also partners with humanitarian organizations to share their valuable work with the world, including Leaders' Quest (India), the END Fund/Amani Global Works (Democratic Republic of the Congo), Roots and Taghyeer (West Bank), and We Love Reading (Jordan).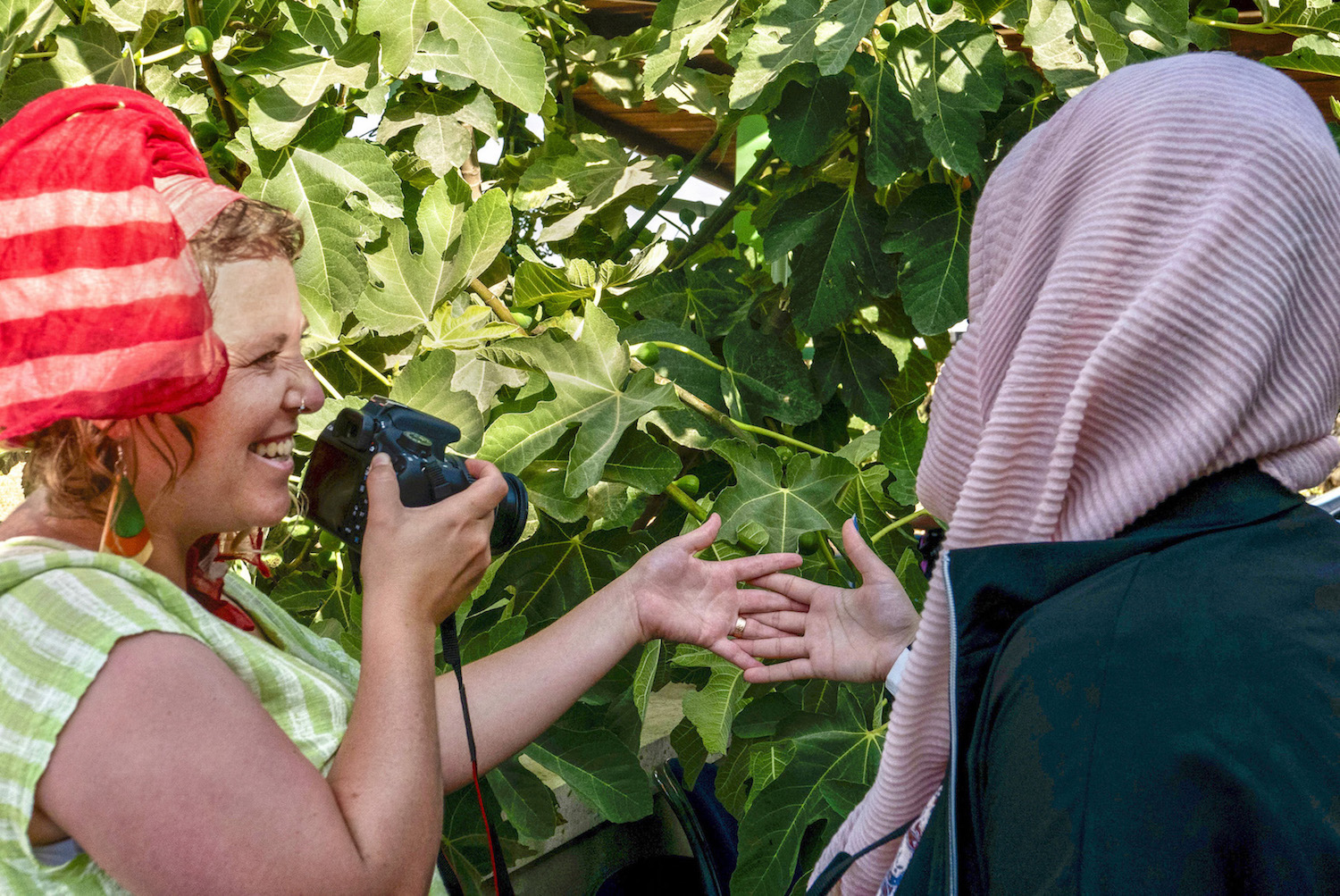 SKP's corporate work has the same mission of evincing humanity but applied to the corporate world.
Saskia is a Master Facilitator with Leaders' Quest's team. Using a photo workshop format, she deepens relationships and broadens perspectives within large organizations.
Specifically, her workshops are designed to evince the empathy of executives within high-performance leadership teams and foster better trust and communication between team members; which leads to higher performance and concrete results.
Saskia has presented her work at universities including Yale, Duke, Tufts, UCLA, Washington University, and New York University's Center for Global Affairs. Her work has been on exhibit at Geneva's Centre des Arts, UCLA, Los Angeles, and B'nai Jeshurun in New York City. She was awarded a prize from the Harvard Negotiation and Mediation Clinical Program, has been published in the Fletcher Forum of World Affairs, UCLA's Daily Bruin, Women Across Frontiers, and featured in corporate annual reports including those of UBS and the END Fund.
Saskia Bory Keeley is a Swiss photographer, educated at Geneva University, Sotheby's, and the New Academy for Art Studies in London. She trained at the International Center for Photography in New York City and is enrolled in the Interspiritual Counseling Program (ISC), a 3-year training at the leading edge of the newly emergent field of Interspiritual Counseling (One Spirit Learning Alliance—NYC).
The joint photo sessions for Palestinian and Israeli settler women take place at the heart of the conflict in the West Bank. They were envisioned to foster consideration, reconciliation and mutuality.
With multiple immigrant communities in Pico Union (LA), the photo workshops brought together the diverse cultures and ethnic groups from the area in new ways.
The day-long workshops in the South Hills of Hebron (West Bank) offer Palestinian women the chance to work together in a way that allows self-actualization within their own cultural and religious environment.
The workshop includes ten justice-involved women in this advanced class to build self-identity, self-awareness and tools for competent communication. These women were selected for their desire to become advocates for criminal justice reform.
Through dialogue, photography, and storytelling we are able to share a more truthful perspective of youth confronted to gang violence and on the perils of living such a devastating lifestyle.
Featured Corporate Workshops
Saskia's workshop developed trust between 14 top executives of the leadership team from very different backgrounds. Executives felt, that with a better sense of each other, they would all benefit from a healthier work environment where they could trust and rely on their coworkers, which would lead to even more effective and productive work. One participant, relates back to the photo workshop by saying, "we should be able to speak in the voice of our customers, like we did yesterday with each other. How would that change the way we think about and interact with them?"
Stratasys, a global leader in 3D printer manufacturing, struggled with both sales and incentive. Saskia's workshop promoted team unity, enhanced functioning, and fostered incentive and execution. One participant said: "I was concerned about this being touchy-feely stuff but this has been so wonderful and healing. I was only working with part of the group during this retreat but now I feel comfortable with everyone". Another participant said to the main facilitator: "This should have been offered to the whole group."
Contact
Please complete the form below