How Stratasys Developed Deeper Trust With Cross-Cultured Executives
Saskia Keeley's Corporate Accompagnateur Workshops are meant to foster a new level of trust, understanding, and communication between executives of high-performance teams.
This workshop included 10 high-ranking employees at Stratasys, who hail from Minnesota, Tel Aviv, and Tokyo. This advanced class served to build self-identity, self-awareness, and tools for competent communication between culturally-diverse departments.
Background
Stratasys is a 3D-printing technology company founded in Minnesota with over 30 years in the business. The company has offices in the US, Israel, Europe and Asia.
A leading company in its field, it has done exceedingly well but, in more recent years, has struggled with both sales and incentives. The company leaders want to promote team unity, enhance functioning, and foster incentive and execution.
Stratasys has an important base in Tel Aviv, Israel. Different cultures don't always seem to see eye to eye and understand each other well. The workshop was offered to bridge "divides" and have a better understanding of the "other".
Problem
Stratasys wants to increase employees' incentive to bring their best selves to work, increase momentum, and increase sales.
They want to address these issues, reenergize their people, and inspire a renewed vision to re-create hope and incentive.
They also need to address the feeling that employees feel stuck and "boxed-in" with stereotypes depending on their nationality and the country in which they live in.
Approach
To engage with one another to find mutuality and commonality. To brainstorm together to revitalize both the company and the way they show up at work.
Solution
First, we speak about the main goal of the photo workshops: to see the humanity in the other, to be receptive to his / her story.
Each participant introduces oneself quickly and asks the framing questions: "Why are the participants on this Quest? What will success look like for them?" in two words. After a moment to let that sink, everyone shares with the group and describes why they chose these two words.
Deep Sharing
As pairs we walked to the Dakota Apartments and the John Lennon memorial. This walk offers a time for deep sharing. To be as candid and personal as possible in what is being told. It may be a short synopsis of a life, a story that has marked this person profoundly, a relationship, an anecdote. It has to be meaningful, important, something unique about you and your background. The person who hears the story is in a listening mode. Not too many questions or interruptions.
After the time dedicated to portraiture there is time for more personal sharing. From both participants in each pair or from one who hasn't had the chance to talk.
Back at our gathering place, a portrait of each is selected by both the photographer and the subject.
Coming back together as a group. I ask:
What was this experience like?

How did it feel to share?

How did it feel to hear?
Last, for the most powerful part of the workshop, we do what I call "Photo Holding" – telling your partner's story in one's own words- using "I" for a more personal narrative.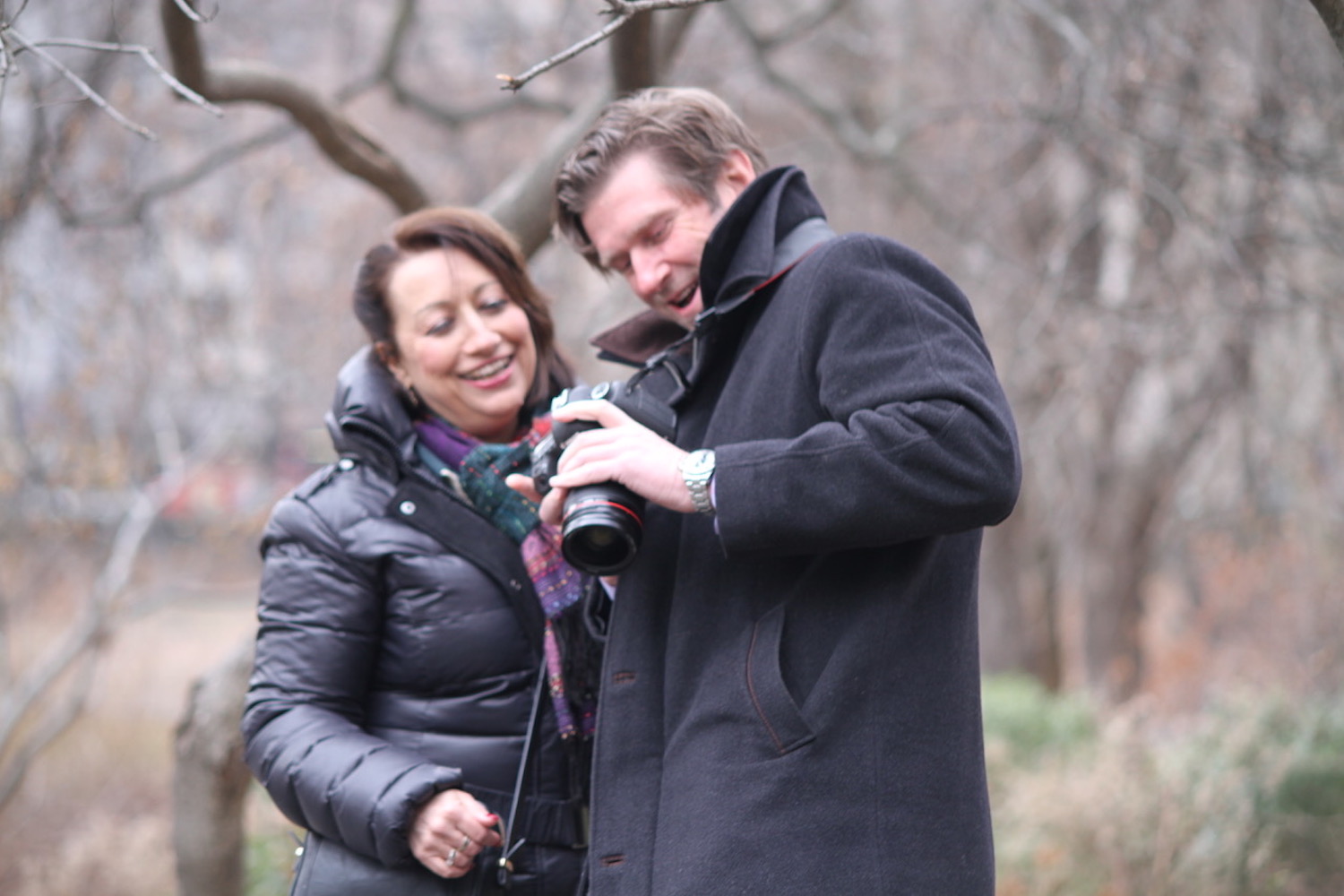 Results
The conclusive results are seen during the sharing. Participants are moved by the way their partner is sharing their story. There is a visible change between participants' trust and comfort around one another.
One participant said: "I was concerned about this being touchy-feely stuff but this has been so wonderful and healing. I was only working with part of the group during this retreat but now I feel comfortable with everyone".
Another participant said to the main facilitator: "This should have been offered to the whole group."
What participants had to say…